How to Import Gmail Emails to Outlook PST with Attachments ?
Gmail and MS Outlook are widely used and are popular email client services in the IT industry. There are many users who are looking for a way to import Gmail to Outlook as Microsoft Outlook provides many advanced and new features that Gmail does not offer. The main advanced feature of Outlook is, you can attach a file up to 100MB. One of the most amazing features of Outlook is that one can work offline without the connectivity of the internet. And, whenever the server will connect to the server, it will update the mail. In case of deletion, the Outlook recovers mail easily without any trouble.
If you are also looking for a solution to import Gmail to Outlook, here you will find the perfect one. In this blog, we are going to give the most appropriate Gmail to Outlook Migration Tool. The utility to export contacts from Gmail to Outlook PST is best-suited for converting Gmail emails to Outlook PST.
Download the Gmail to Outlook converter from the given button.

How to Import Gmail Emails to Outlook
A. Gmail to Outlook Migration Tool
1. Run the Gmail to Outlook converter and select "Gmail" from the left panel of email sources to import Gmail to Outlook.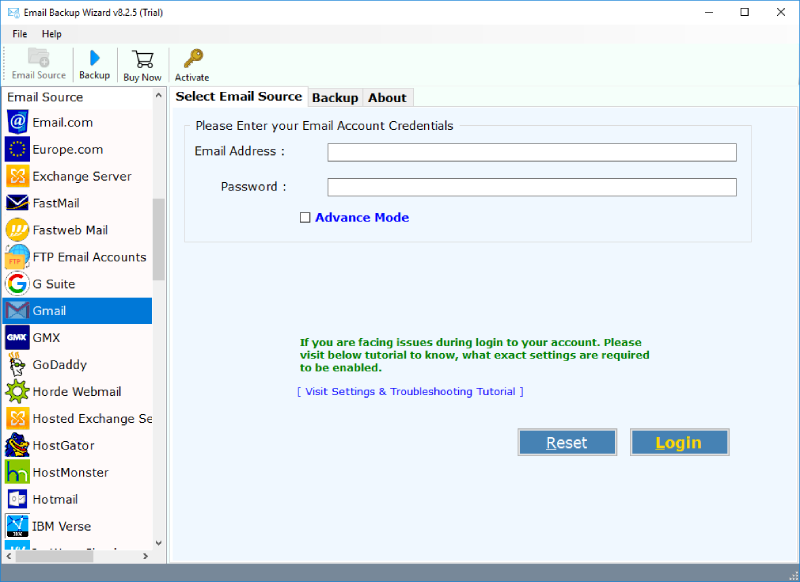 2. Now, enter the credentials of your Gmail account and click on the Login button to backup Gmail emails to Outlook.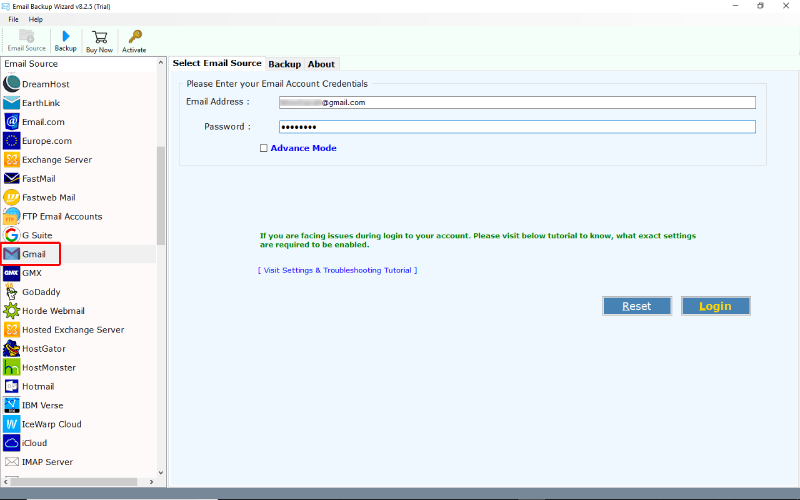 3. Choose the Gmail folders you want for Gmail MBOX to Outlook migration. Select "PST" as the file saving option and the required Destination Path.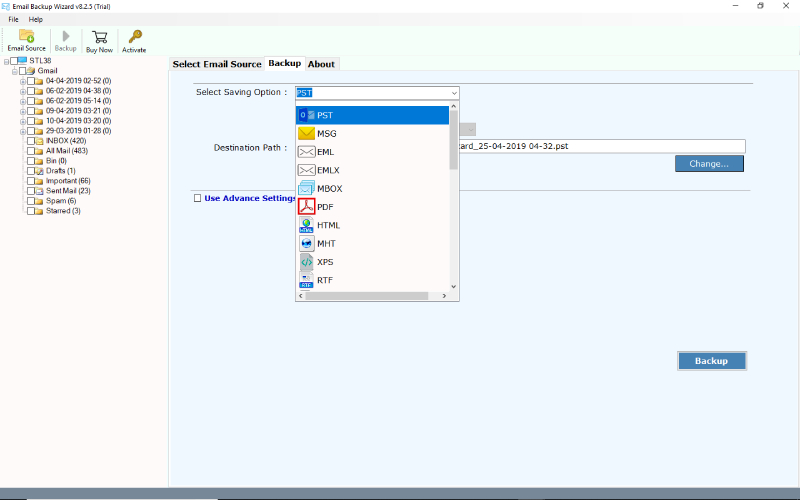 4. In the end, click on the "Backup" button to begin the backup process.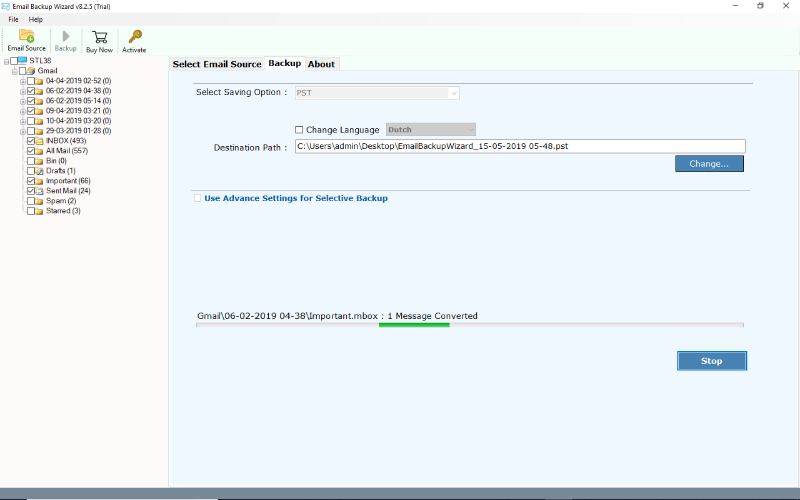 B. Manual Method to Convert Gmail to PST Outlook
If you are looking for any manual way to download Gmail files to Outlook then please follow the steps given below:
Open the "Gmail Setting" after singed in.
Click on the "Forwarding & POP/IMAP" tab, after that click on the "Add a forwarding address".
Now, enter the credentials of Outlook and click on the "Next" button. Confirm it by click on "Proceed".
Keep the tab and window of Gmail open. Now, open your Outlook and wait for the email from Gmail.
After receiving the Gmail email, you can proceed to the "Next" step to Import Gmail emails to Outlook PST format. This mail will give you a verification code.
Copy the verification code and go back to the Gmail tab and paste that code into the Confirmation Code Field. After that click to verify option.
Enable forward a copy of "Incoming Mail Server" to your Outlook.com address.
Scroll down to the bottom and click on "Save" changes
Drawbacks of Manual to Save Gmail to Outlook
We have explained each and every step to download Gmail emails to Outlook PST format but it has some limitations. As we can see that it has so many steps then the process will take so much time. Or in case of a large number of email messages, this manual process fails as it does not provide the guarantee of safe and complete migration. And, this process requires the deep knowledge to import Gmail emails to Outlook PST format.
To overcome the limitations of the manual method, we have come up with the cost-effective and reliable third-party software namely Gmail to Outlook Backup Software. This software is Windows-based and does not require any supportive application. With this tool, you can easily import multiple Gmail emails to Outlook PST along with attachments. The tool provides a very simple interface by which Non-Technical users can also use this software without any technical support.
Advantages of Gmail to Outlook PST Backup Wizard
1. Download Gmail emails to Outlook along with attachments.
2. Import multiple Gmail files to Outlook PST format at once.
3. Save Gmail messages to PST without Outlook installation.
4. Browse the location where you want to save the resultant PST files.
5. Gmail migration tool is completely free from every risk.
6. Install and run this application on any Windows platform.
7. The software to backup Gmail to Outlook provides the Date Filter option for the user's ease.
8. There is no file size limitation to import Gmail to Outlook.
9. You can migrate the selective Gmail database to Outlook easily.
10. The tool also supports all the editions of Microsoft Outlook.
Final Words
In the above write-up, we have given an appropriate solution to import Gmail to Outlook. The tool provides a reliable and fast conversion from Gmail emails to Outlook PST format. We have also explained the manual way but the manual process has some limitation. So, you can go with that solution which is suitable for you.