How to Backup Hotmail Emails without Any Hassle ?
Most people do not back up Hotmail email account. All their emails are stored in one place, for example, the Microsoft server. And when the online account is hacked or lost for any reason, all the email data is lost, often forever. A good email backup strategy is the best way to ensure your organization never gets into any kind of trouble. Hence, it is important to backup Hotmail emails to hard drive to get rid of any data loss.
Now, the question is, how to backup Hotmail emails to hard drive? In this write-up, we have given a proper Hotmail email backup solution. Using the manual method always is not appropriate. Sometimes it may result in corrupting or losing our important emails. So, it is suggested to use the automated solution to backup Hotmail email account. Read the article till the end to get the stepwise solution for Hotmail email backup.
The one-stop solution for Hotmail backup is Email Backup Wizard. This Hotmail backup software is inexpensive and user-friendly. Also, with this tool, you can migrate Hotmail emails along with attachments.
Download the Hotmail backup tool from the given button:

How to Backup Hotmail Emails to Hard Drive ?
Run the application and from the left panel of the software screen, select Hotmail application.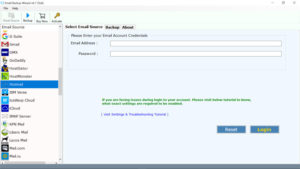 Enter the login credentials of Hotmail account and click on the Login button.
Now, select the required file saving option, destination path and click on the Backup button to backup Hotmail emails.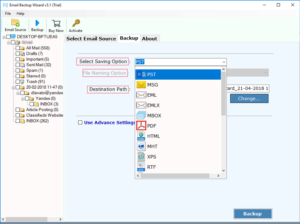 Now, the software starts creating a backup from the Hotmail account.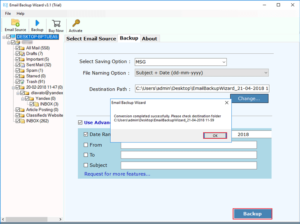 Benefits of Hotmail Backup Software
The tool to backup Hotmail emails has a simple and easy to understand user interface. Even the non-technical users can easily backup Hotmail emails to Hard drive with this utility.
Hotmail Backup Tool is a very professional and advanced software. Also, the software is efficient in creating a backup of emails, contacts, calendars of multiple email services.
Also, the tool provides an accurate and safe Hotmail email backup without losing a single bit of information.
The tool is an easy way to backup Hotmail emails in bulk.
Also, the Hotmail email backup tool is compatible with all Windows Operating System versions.
About Hotmail – Important Facts
Hotmail is a web-based email service that allows users to access from any web browser anywhere in the world via an Internet connection. In 2012, the Windows Live Hotmail service was renamed Outlook.com. The Hotmail URL now redirects users to the main login page of all Microsoft accounts, including Store, OneDrive, MSN, Skype, Outlook.com and others.
When Microsoft renamed Hotmail as Outlook.com. it added a couple of new features to Outlook.com. The first is an "SMTP Send" feature that allows Outlook.com users to send messages in a more transparent way. Another new feature added is better integration with Microsoft's SkyDrive cloud storage service. With this feature, you can select files from SkyDrive for sending to e-mail recipients directly from the Outlook.com user interface.
The Final Word
In the above blog, we have given a direct and easy way to backup Hotmail emails. The tool is best-suited to migrate Hotmail email files in bulk. Also, the Hotmail email backup tool has a number of features that make the process to backup Hotmail emails to Hard drive smooth and simple.