How to Backup Hotmail Files without Any Hassle
Today, Outlook.com, once known as Hotmail is one of the most popular free online email services offered by Microsoft. Hotmail is a web-based email service that allows users to access from any web browser anywhere in the world via an Internet connection.
In 2012, the Windows Live Hotmail service was renamed Outlook.com. The Hotmail URL now redirects users to the main login page of all Microsoft accounts, including Store, OneDrive, MSN, Skype, Outlook.com and others.
Outlook.com is the service that users are now using to access their hotmail.com email.
Here, I want to clarify a blizzare. This is mainly in the user's mind. Outlook.com and the Outlook e-mail program (provided with Microsoft Office) are two different and unrelated things. One – Outlook.com – is an online e-mail service and the other – Microsoft Office Outlook – is an e-mail program that installs on your PC.
When Microsoft renamed Hotmail as Outlook.com. Added a couple of new features to Outlook.com.
The first is an "SMTP Send" feature that allows Outlook.com users to send messages in a more transparent way.
Another new feature added is better integration with Microsoft's SkyDrive cloud storage service. With this feature, you can select files from SkyDrive for sending to e-mail recipients directly from the Outlook.com user interface.
There are two types of business out there. Those who've been hacked. Those who are about to be hacked. Did you know 90% of all companies have been hacked at least once? And 71% of data business breaches occur in businesses with less than 100 employees.
If your emails files are hacked, deleted or corrupted. Your reputation could be damaged. Your revenue can drop. You may not be able to perform some important tasks.
Here's the problem: Most people do not back up their Outlook.com online account. All their emails are stored in one place, for example, the Microsoft server. And when the online account is hacked or lost for any reason, this whole email disappears, often forever.
A good email backup strategy is the best way to ensure your organization never get into any kind of trouble. Hence, Hotmail backup is mandatory.
Now, we have discussed why you need a backup? It's time to introduce the best method for Hotmail backup process. The first thing that came in mind after hearing the term "Backup" is a manual method.
I have to warn you here! The manual method is just like shrugging the shoulder. You shrug your shoulder when you don't have a proper answer. In the same way, the manual method works sometimes and sometimes corrupt your data.
The one-stop solution for Hotmail backup is Email Backup Wizard. This Hotmail backup software is inexpensive and user-friendly. This software is specifically designed for this type of migration. i.e. Hotmail Migration.
How to Download Hotmail Emails?
Download the tool from the given button:

Run the application and from the left panel of software screen, please select Hotmail application.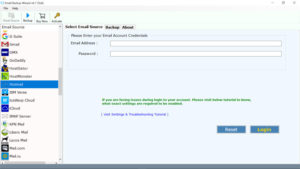 Enter the login credentials of Hotmail account and click on login button.
Now, select the required file saving option, destination path and click on backup button.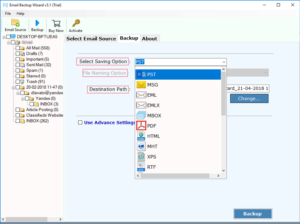 The software start creating backup from Hotmail account.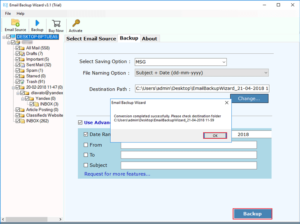 Benefits of Hotmail Backup Software
This Hotmail backup software has been reviewed as a package of your email data insurance. Continue reading to know the features of this expert.
It is a single utility that allows creating the backup of multiple email services. For example, backup of Cloud, Web Server, and Desktop.
It is the one and the only solution which is capable to create the backup of 70 email client applications such as Cox Mail, Charter Mail, FateWeb Mail, Gmail, G Suite, Earthlink, Email.com, Amazon Workmail, AOL, BlueHost and many more.
The tool has proven itself as the "Brian Lara" of email backup.
If you are not tech-savvy. It is then also for you. The developer has developed this tool keeping every aspect of the user in mind.
Hotmail Backup Tool is the very professional and advanced software. This software is successfully efficient in creating a backup of emails, contacts, calendars of multiple email services.
It provides the accurate and safe backup without losing a single bit of information.
The Final Word
When you invest in a company. Look for the cream layer. So, why do injustice with your email data. Get back up your email file with the most authentic software. Protect your data, please your business!