How to Import AOL Emails to Thunderbird Account Directly ?
Nowadays, with increasing internet popularity, the mode of cross-communication is online. There are a lot of applications available that are used to save or share important data across the globe. To get the maximum benefits, users are regularly switching from one application to another. One of the most common queries of users is how to import AOL Emails to Thunderbird account. So, in the following blog, we are going to explain the way to export AOL email to Thunderbird without any trouble.
Also, through the following write-up, we have tried to solve some user queries related to AOL Mail migration.
How to import AOL contacts to Thunderbird ?
Can I add AOL email to Thunderbird account directly ?
Is there any AOL Mail backup tool to make AOL email migration to Thunderbird easy ?
AOL Mail Backup Tool to Export AOL Email to Thunderbird
The AOL email migration is no more a difficult task. The Email Backup Wizard to import AOL emails to Thunderbird is a one-stop solution. It offers a number of facilities for easy and error-free migration from AOL to Thunderbird. The utility is a foremost solution to export AOL email to Thunderbird in bulk. With this tool, any kind of user can transfer emails from AOL to Thunderbird account without having any external support. It is a Windows-based software used to create the complete backup from AOL to Thunderbird without losing a bit of information. Also, the AOL backup tool lets you selectively import AOL mail into Thunderbird. In a few simple steps, you can accomplish the migration process. So, download the utility for hassle-free Aol backup.

How to Import AOL Emails to Thunderbird Account?
A. AOL Mail Migration Tool – Direct Solution
1. The first step is to install and run the AOL backup tool to import AOL emails to Thunderbird. Choose AOL application from the left panel.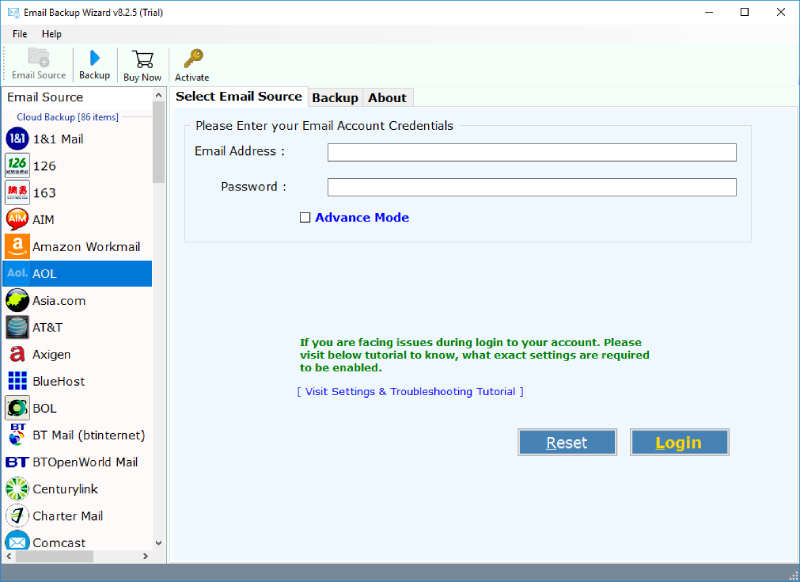 2. Now, enter the login credentials os AOL Mail account and click on Login.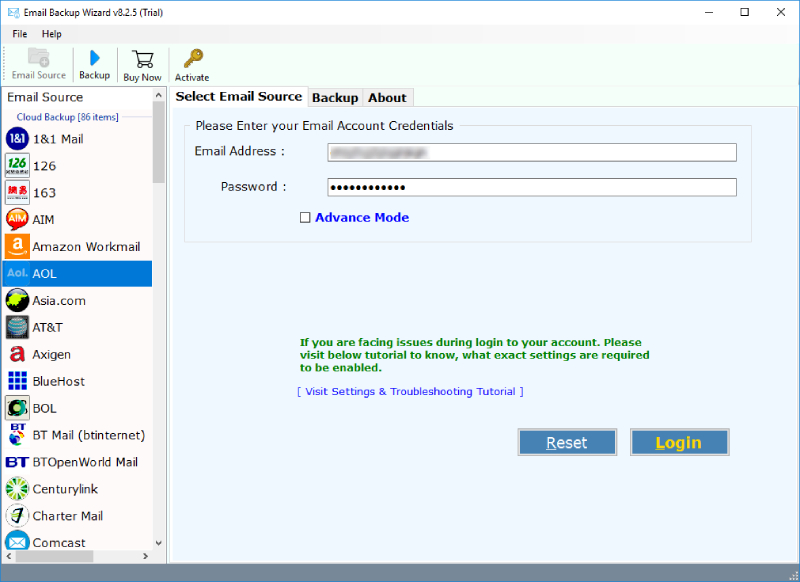 3. Select the files, saving option as Thunderbird as we need to export AOL Mail to Thunderbird.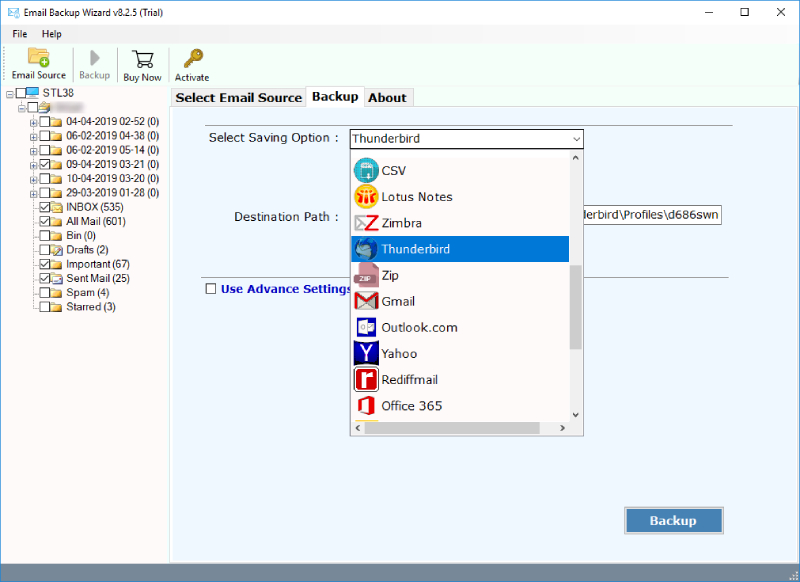 4. Choose the destination path and click ok Backup to start AOL to Thunderbird migration.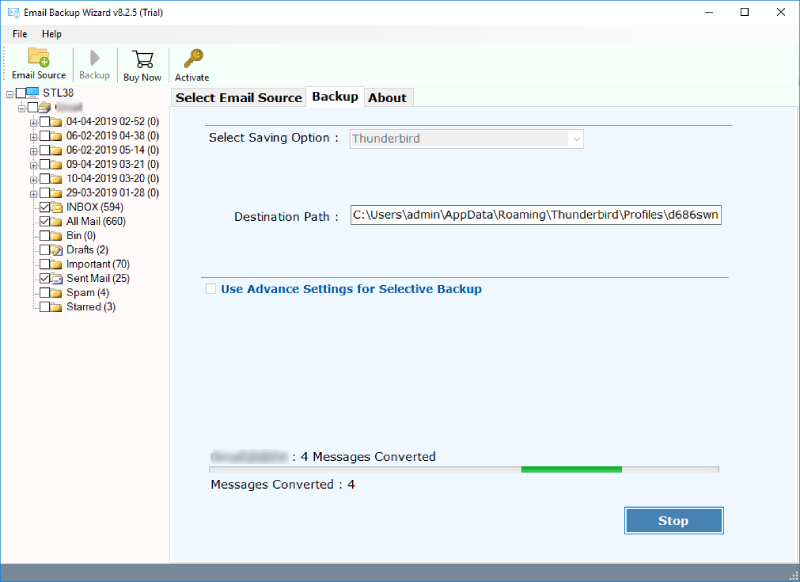 B. Manual Approach to Add AOL Email to Thunderbird
Now, we are going to describe the manual process to import AOL files to Thunderbird. So, please follow the steps mentioned below:
Open Thunderbird and from the Tools menu select Account Settings.
Click on "Account Actions" and select "Add Mail Account" from the given menu list.
Now, enter the credentials such as email address, password, and name, etc. and click on the Continue button.
Now, select the IMAP protocol. If a user selects the POP3 protocol, then new emails will be download from AOL but they will not synchronize the actions and folders.
Once the above step is done, Click on "Done" and then on OK button.
Limitations or Drawbacks of Manual Process
For the native users, the manual process to import AOL mail into Thunderbird is very tedious. The configuration of IMAP or POP3 protocol is also complicating for the non-technical users. Also, the manual process will take a lot of time to import AOL emails to Thunderbird account.
To overcome the limitations of the manual process, it is suggested to take the help of the above mentioned professional software namely AOL to Thunderbird Backup Tool.
Let's Take a Glance on AOL and Thunderbird
AOL is a free web-based email client application provided by AOL, a unit of Verizon Communications. It successfully supports POP3, SMTP and IMAP protocol. AOL email application also provides protection from the Spam and Viruses. In addition, it also supports SSL or HTTPS protocol after login.
Mozilla Thunderbird is a desktop-based open-source email client application that provides several features like contacts, encryption, multiple profile configurations, and many more. It also supports POP, IMAP, LDAP, MIME protocols. Nowadays, Thunderbird is the most common and popular email client application.
Why Add AOL Email to Thunderbird Account ?
1. There are a number of reasons due to which users want to migrate AOL emails to Thunderbird account.
2. When someone creates the backup of their emails from cloud storage, then they require a desktop-based application to access or manage those emails.
3. If you want to access the multiple email accounts at once, then Mozilla Thunderbird is the most beneficial and advanced application.
4. Saving data in the cloud is advantageous but we cannot ignore the information breaching issues related to the cloud storage. Then, it becomes very important to convert AOL mail to some desktop-based application. One such application is the Thunderbird.
Key Features of AOL to Thunderbird Migration Software
Directly import AOL Mail to Thunderbird account in bulk.
Migrate AOL messages to Thunderbird with attachments.
There is no file size limitation to create the AOL Mail backup.
AOL Mail Backup Tool is completely free from every type of risk.
You can download and run this utility to import AOL emails into Thunderbird on any Windows OS.
Multiple naming options to change the default name of files.
Option to browse the required location where you want to save data.
Conclusion
In the above write up, we have given a complete procedure to import AOL emails to Thunderbird account. Also, we have described both the manual as well as the professional way to accomplish the task. You can go with any solution which is suitable for you. The AOL to Thunderbird backup tool is a very efficient utility to export AOL email to Thunderbird. Also, there is a TRIAL version available for this utility.