Import AOL to Outlook without Any Trouble – Get Your Query Resolved
Earlier, for personal use, I was using AOL as my email client. But now, I have started my business. So, to manage my business emails, I want to import AOL to Outlook. Please suggest me a solution for this.
A few days before, I have suggested a well-defined software to a client to import emails from AOL to Outlook PST. He wanted to migrate AOL to Outlook to work for his new organization. I recommended him to use the Email Backup Program. Using this software, he got unlimited migration even without losing a bit of information. This utility is an efficient solution to convert AOL emails to Outlook. You can easily migrate your data in just a few quick steps. Download the AOL to Outlook converter on your system to easily export AOL to Outlook PST.

How to Import AOL to Outlook?
Run the tool and select the email source as AOL from the left panel.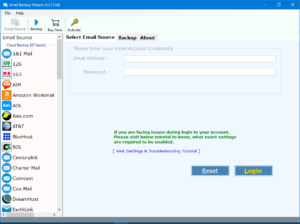 Enter the login credentials and click on the Login button to move further.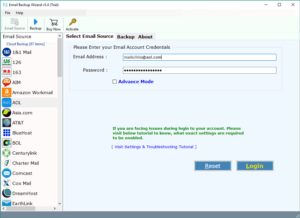 Select PST as the file saving option required destination and click on the Convert button to import AOL to Outlook.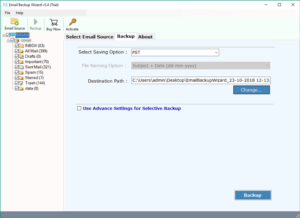 AOL to Outlook PST Migration Tool starts creating a backup from AOL application. After the migration, you will get the completion message.

Note: This DEMO edition is only capable to import 25 data items from each folder. If you want to get the unlimited migration then it is suggested to go with the licensed version which is completely cost-effective.
Manual Method – By Configuring AOL in Outlook
For using AOL PFC emails in Microsoft Outlook, AOL account requires to be set up in MS Outlook. For executing it, the following steps are required to be followed:
Open Microsoft Outlook >> click on File option.
Choose the option of Add Account, which is above the option of Account Settings.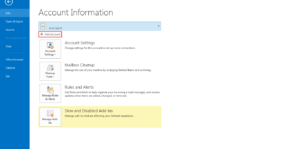 Now, choose the option of  Manual setup or additional server types>> Next.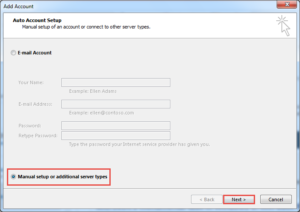 Choose an option of POP or IMAP from list of option >> click Next.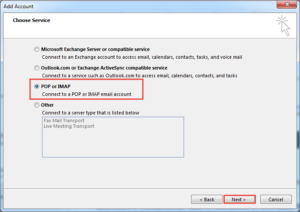 Now, enter all details such as name, email address of AOL PFC account, Account type, etc.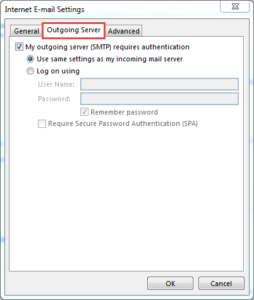 Click on the option of More Settings and choose the Outgoing Server option.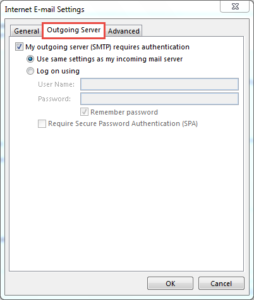 My outgoing server (SMTP) needs authentication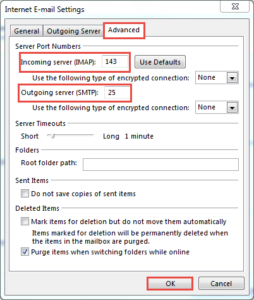 Utilize Same Settings as my received mail server.
Choose Advanced and enter details:
Incoming server (IMAP): 993/143
Incoming server encrypted connection: SSL
Outgoing server (SMTP): 25
Outgoing server encrypted connection: TLS
Once it is done, click OK.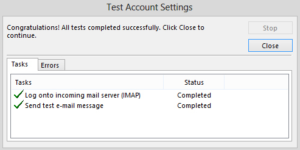 Once the credentials are entered, close Window >> click Next.
When done, click on the Finish button. If the whole information you entered is accurate then, tests will be successfully completed.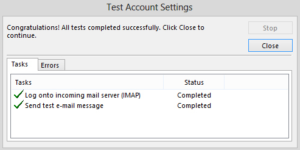 Now, you are all set to view all AOL emails in MS Outlook.
Why Migrate AOL to Outlook PST ?
AOL has been the most popular email service that has been utilized worldwide. However, the technology after a point of time vitiates or goes out of usage due to its still state. Being consistent is worthy, but stagnant is never. So, when technology keeps on serving similar things repeatedly for a long duration, its growth becomes stagnant too. AOL became stagnant for quite a long time that has led to its outdatedness. As a result, many people have started quitting the service. Thus, not many were frequently utilizing it any longer. The rapid abandonment made the users suspect which service might soon be limited due to the reduction in usage.
Backups became significant to withstand data and make them accessible for users at whatsoever condition. Therefore, the downtimes, connectivity issues, server crash/unavailability, were all put into deliberation. The idea to download AOL emails to Outlook emerged but was in no progress till right way of achieving it is recommended. In the following write-up, we will focus on the same way to save AOL emails in Outlook PST format.
Limitations of Manual Method:
The process is quite lengthy
Requires complete technical knowledge
Why Choose AOL to Outlook Migration Tool
100% Safe and secure utility to migrate AOL files to Outlook PST format.
Offers bulk and selective backup to make the migration more easy and simple.
It successfully supports all the edition of Windows and Outlook platforms.
One can easily change the default language of the application for ease to import AOL to Outlook.
AOL to Outlook Tool provides the very simple graphical user interface.
Final Words
In the above blog, we have mentioned an appropriate solution to import AOL to Outlook. The AOL migration tool is a professional utility to convert AOL email to Outlook PST. If you want to experience using the software, you can download the DEMO edition for free.