How to Migrate Gmail to Office 365 ?- All you Need to Know
Many times, users wonder if they can export their emails from one format to other. While migrating data, there is one major thing where users aim at converting their data accurately. Data is like that valuable stone which no one can afford to lose. Storing it accurately without any loss is something which any user wants. If you are finding the solution to Migrate Gmail to Office 365 with full security, you may find it here.
A Trustworthy Solution to Export Gmail to Office 365.
Email Backup Wizard is a single and foremost solution to migrate Gmail to Office 365. It is a multi-tasking backup application. Also, the utility enables the user to create a backup for 70 email client services. Gmail, AOL, Amazon work mail and many other services are supported. These may be Web-based, Desktop-based or Cloud-based. Here the backup created is completely secure and safe. Moreover, the software has compatibility with all the versions of Windows Operating System.


Steps to Migrate Gmail to Office 365
Firstly, FREE Download the tool:

1. Once you download the tool, Run the software to migrate Gmail to Office 365 on your system and select the Gmail Application.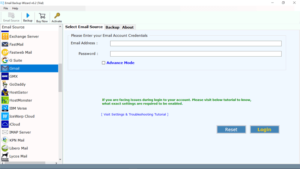 2. Now, fill your Gmail account credentials and select the login button to export Gmail to Office 365.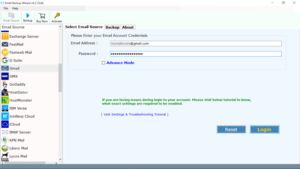 3. After login, select the saving option as Office 365, the desired storage destination for newly exported files.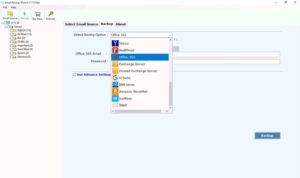 4. In the end, fill your Ofice 365 credentials. Now click Backup option to start Gmail to Office 365 migration.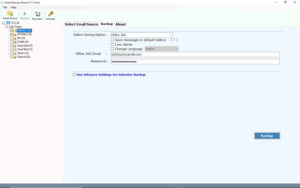 5.  The Gmail to Office 365 migration starts here.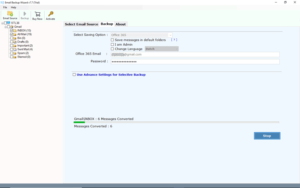 About Gmail and Office 365
Gmail is a popular and widely used cloud-based e-mail service. It stores files, attachments, calendars, and all other data. Gmail has an understandable and user-friendly interface. It is mostly used as a personal email client.

Being a part of Microsoft products, Office 365 is a subscription line offered by Microsoft. Also, Office 365 has a number of services. It gives access to contacts, emails and other things from browsers anywhere in the world. Office 365 comes with countless features. Also, it helps the user to organize tasks systematically.
To know the complete solution to migrate Gmail to Office 365, you can refer to the following video:
The Reason Behind Users Switching to Office 365
Office 365 has many such features for which it is mostly preferred over Gmail.
1. Gmail uses labels rather than folders. Moreover, it's interface is time-consuming and a bit outdated as well.
2. Office 365 has a simpler interface with a drag and drop feature. Also, it makes it more convenient for the user to use it.
3. With Office 365, there is no need to synchronize. PST files separately. All the data is stored online.
4. Much more storage space is provided by Office 365 which lets the user transfer all the historical emails without archiving it.
Some Specifications of Gmail to Office 365 Converter
1. This tool creates a backup in multiple file formats. The file formats include PDF, EML, MBOX, HTML, RTF and many more.
2. The Gmail to Office 365 migration tool gives the facility to add multiple accounts. Moreover, all the accounts can be accessed together.
3. The Utility provides a self-explanatory interface. It is user-friendly and simple to use. Also, the software also allows selective backup of email files using Filter option.
4. Also, the tool to migrate Gmail to Office 365 lets you download some specific messages using the Date filter option.
5. The software does not need any other external applications to create backups. In fact, It is an amazing standalone application for Gmail to Office 365 migration.
6. This product creates an IMAP backup software. This advanced feature gives some advantages over backup through local mailing software.

7. The software to migrate Gmail to Office 365 comes with an Impersonation feature. Also, it allows you to save multiple or single mailboxes of your Microsoft Office 365 account.
Closing Words
You can download the DEMO version which is available for free. Users can implement it to know the software according to their use and requirements. Through the above write-up, we suggest one of the simple, efficient and appropriate solutions. Also, you can easily convert Gmail to Outlook 365 in just a few steps. Email Backup Wizard is a prominent software solution for those who want an all-in-one medium for different conversions.