How to Migrate Zoho Mail to Windows Live Mail Account?
admin | December 17th, 2018 | technology
Time keeps changing with the change of time. Technology also keep updating. To get more benefits, everyone keeps switching from one technology to another.
I got a new migration project on transferring emails from Zoho Mail to Windows Live Mail account. Some of my users are demanding to migrate multiple Zoho Mail files into Windows Live Mail. Moving the database in bulk is a big challenge but not impossible.
Migrating multiple emails from Zoho Mail to Windows Live Mail account at once is not possible with manual process. Therefore, I would like to firstly explore a direct solution to accomplish this task.
There is a software namely Email Backup Wizard in order to get the accurate conversion. This software is developed to meets all the expectations. With this tool, one can easily import multiple emails from Zoho Mail to WLM account at once without any hassle. Performing migration from Zoho to Windows Live Mail account become easy using this incredible software.
Steps to Convert Zoho Mail to Windows Live Mail Account
Freely download the software from the given below button:

After downloading the tool, install and select Zoho Mail from the left panel of the software.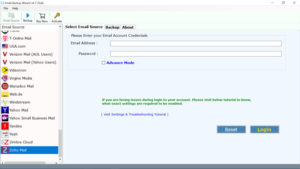 Enter the Zoho Mail credentials and click on Login button.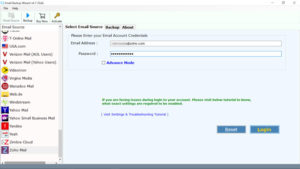 Select the required folder you want to migrate into Windows Live Mail account.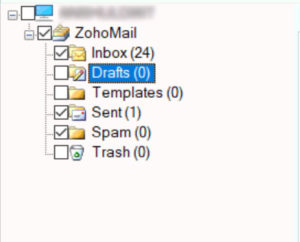 Now, select Windows Live Mail as file saving option and required destination path.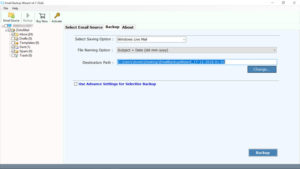 It also allows you to rename the file name using file naming option. So, select required file naming option and click in Backup button.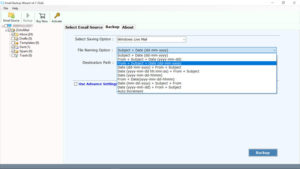 The tool start creating backup from Zoho Mail to Windows Live Mail account. Wait until the process competes.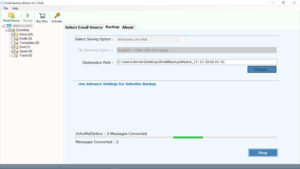 Now, we are also going to explain some manual methods to accomplish this process.
Method 1: How to Manually Import Zoho Mail to Windows Live Mail?
Please follow the steps below:
Login to your Zoho Mail account.
Click on Setting option and then select Import/Export option.
Now from the drop-down account setting, select the account you need to import the emails.
Here, from the import option, click on the "Choose File" button to import a file and then click on the Choose button. Please keep in mind that the file should be either .eml or zip.
Go to the import option if you choose the import under the chosen folder option.
Once it has done, select the import option to move emails form Zoho Mail to Windows Live Mail email account.
After click on the import option, the process of migration starts.
In case, some emails left and could not be migrated then it will show you a notification message of failed emails.
Method 2: Configure Zoho Mail Account with Windows Live Mail
Once you configured your Zoho Mail account with Windows Live Mail application then Zoho emails can be easily accessed into WLM. Let's have a look on the configuration process.
Firstly, open you Windows Live Mail application and go to Tools.
Click on the Accounts option and then click on Add Button >> E-MAIL Account >> Next.
Here, enter the required login credentials and also click on the next checkbox to manually configure server setting for email account. Now, click on the next button to proceed further.
Now, you have to change the settings given below and then click on next button.
Choose POP3 Incoming Mail Server.
Enter mail.yourdomain.com in the incoming server.
Port number should be 110.
In the Log on using option, select the clear text authentication.
Enter your email address in the Login ID field.
Now, in the Outgoing Server, enter mail.yourdomain.com (Its port number should be from 25 to 587)
Now, click on the checkbox next to my Outgoing Server authentication.
5. Lastly, click on the Next button to finish the process of configuring Zoho Mail to Windows Live Mail account.
Limitations
As we can see that these manual processes are very lengthy as well as time-consuming. It requires technical knowledge to be execute. One more thing, Zoho Mail and Windows Live Mail applications are required to execute the processes.
Why Choose Zoho Mail to Windows Live Mail Converter?
The utility helps users to batch convert Zoho Mail data to Windows Live Mail account.
Import emails from Zoho Mail to Windows Live Mail and email attachments as well.
Allows users to change the default language of the software while performing migration.
One can select the required destination path to save the converted data for the ease.
Multiple file naming options are provided by the tool to rename the file as per the need.
Windows compatibility of this software is awesome as it supports every Windows OS.
Perform the unlimited migration from Zoho Mail account to Windows Live Mail.
By ending my blog, I would like to suggest you to keep searching on technology to understand and execute the new things. Also, download the recommended Zoho Mail to Windows Live Mail Migration Tool to accomplish the migration from Zoho Mail to Windows Live Mail email account.