Rackspace Email Backup – Create Rackspace Webmail Backup to PC Locally
This Blog Covers the Following
How to Create Rackspace Email Backup
Overview of Rackspace Webmail
Advanced Features of Rackspace
Why Take Rackspace Backup
How to Create Rackspace Email Backup ?
Create the regular backup of your Rackspace emails using the best Rackspace Backup Software. It is completely a Windows-based application and free from any type of risk. The software allows to export Rackspace calendar and emails in bulk to save your precious time and effort. The tool provides multiple file saving options for the backup. You can easily copy Rackspace files to PST, PDF, MSG, MBOX, EML, EMLX, HTML, MHT, RTF, and DOC file formats. This special utility also allows to migrate from Rackspace to Gmail, GMX, Thunderbird, Lotus Notes, and other email services directly. Also, there are only a few steps to create Rackspace Webmail Backup. Download the Rackspace Email Backup Software and get the best solution.

Steps to Backup Rackspace Email
To backup Rackspace email locally, you need to first download the Rackspace email migration tool. After installing the software please follow the given steps to take the Rackspace Webmail backup.
1. Select Rackspace from the left panel and enter the credentials. Click on Login to export emails from Rackspace.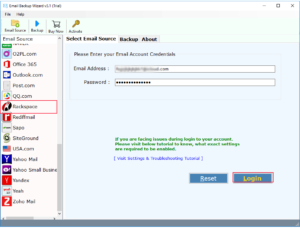 2. Now, select the file saving option, required destination path, and file naming option for Rackspace email migration.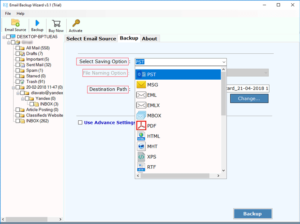 3. After this, click on the Backup button to begin the Rackspace Email Backup process.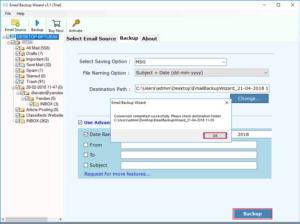 Rackspace Overview
Rackspace is a Windows based as well as Mac OS based messaging service for everyday mail. It provides so many advanced features for effective email communication such as fully web-based for easy access, Company Directory, Shared Calendaring, Instant message filtering, Tasks, and Notes, etc. It also provides options like Email Undelete and multiple identities with signature. You can easily configure it with MS Outlook because it is an Outlook compatible software. Users can easily access their data using the tablet or mobile phone.
Advanced Features of Rackspace
It is an auto-setup tool with Spam and Virus protection.
This application is capable to recover deleted emails easily.
Rackspace provides the huge storage capacity of 30GB.
This application also provides online word and excel editor.
Why Take Rackspace Email Backup?
If you don't want to lose your Rackspace emails or always want to keep them safe then it is recommended to create the regular backup. Creating a regular backup reduces the causes of your important data loss. Also, you can create Rackspace email backup into another application because there are only a few numbers of users who use Rackspace.
Advantages of Email Backup Wizard:
No file size limitation imposed on this application.
Import unlimited Rackspace email to desired file type.
Choose the desired location to save the backup file.
Save with default name or changing it with naming option.
Rackspace Email Backup is completely free from any risk.
You can install this application on any Windows platform.
Try Demo First:
We recommend you to use its trial version first to make sure that the software works accurately or not. As it is the free edition, so it has some limitations. If you want to create the complete backup of your Rackspace Webmail client then you have to switch to the pro version. The solution is best suited to export emails from Rackspace.