Transfer Outlook MSG to PDF Adobe – Know How?
Security is the key concern of all users nowadays. Almost everybody tries to store their important data in Acrobat Adobe PDF format. Recently, we got a query for "How to convert Outlook MSG to PDF ?". So, we decided to give you a complete solution to move Outlook MSG to PDF. The MSG Converter Wizard is an appropriate solution to transfer Outlook MSG to PDF format. Using this tool, you can batch convert Outlook MSG to PDF. Download the utility for a quick and easy MSG to PDF migration.

How to Export Outlook MSG to PDF Adobe
There are two ways to move MSG files to Acrobat Adobe PDF as mentioned below:
Method 1: Manual Way
Open your MSG file in your system that is imported to be moved.
Now, navigate to File tab of MS Outlook transfer Outlook MSG to PDF .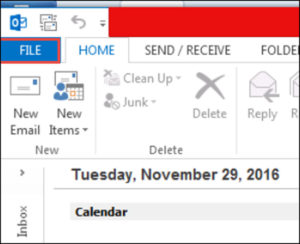 From the File menu >> select Save As option to store data file.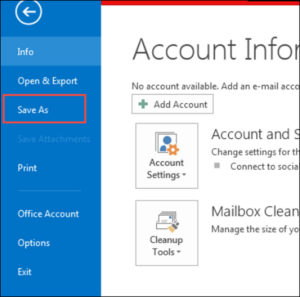 Select HTML format to save your Outlook MSG file at any preferred location on your system.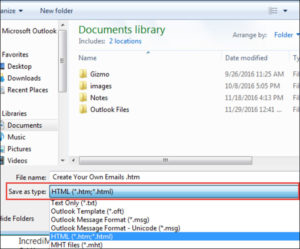 Now, open that .html file, on your MS Word.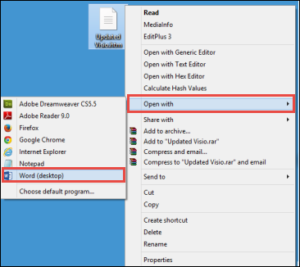 In Word, traverse to the File menu and click on an option Save As.
Now, In Save as field, select PDF (*.pdf) format to save the file in Adobe PDF format.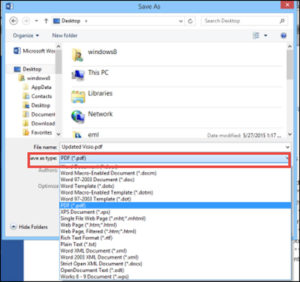 In this way, you can transfer your .msg file to PDF format one-by-one without any problem.
Limitation:
The above-discussed way is lengthy and takes a lot of time to execute the data migration procedure.
Method 2: Direct Solution to Export Outlook MSG to PDF
To overcome the limitation faced by the above method, MSG Converter Wizard is the best choice. The software is designed in such a manner that it only takes a few moments to implement the procedure of data conversion.
The application is a totally standalone application to implement data migration procedure. The tool is Windows-based and supports all Windows editions. Not only this, but the software also supports all Outlook versions to implement data migration procedure. The tool moves the bulk .msg files at a time to .pdf format. The application keeps the integrity of data in its original form after migration.
Let's check the working of the tool to execute data migration from Outlook MSG to PDF Adobe.
Download and run the software on your system.
If you need to bulk transfer MSG to PDF Adobe then, select Folder option. Otherwise, go an option Select File to perform selective MSG to PDF conversion.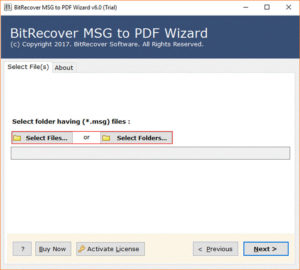 The tool will display the path of loaded data files on the application's panel.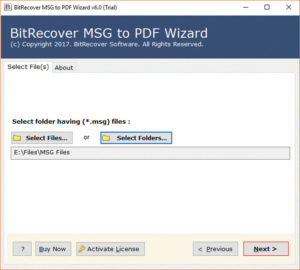 The software will load all files and view it. Check the required folder to execute the migration.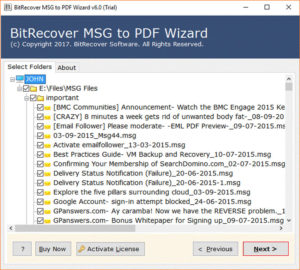 The application gives numerous of advanced options to implement migration accordingly. Along with this, it also provides an option to store data at the preferred location.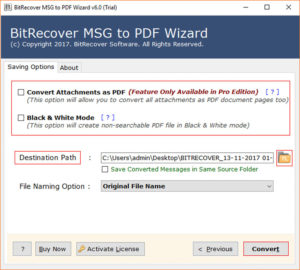 Select option of the desired file naming to store resultant data >> click on the Convert button to transfer Outlook MSG to PDF.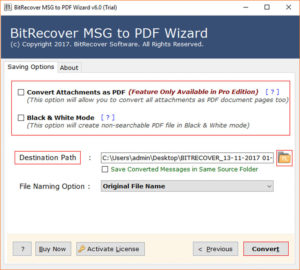 The application will begin the migration procedure from Outlook MSG to PDF.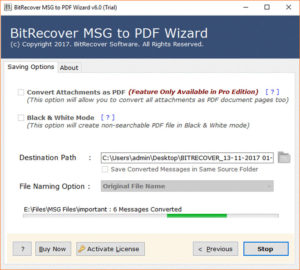 Once the process is done, you will have the message of completion.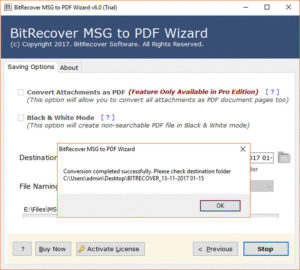 With this way, I moved the bulk of MSG files to PDF at a time without any issue. The best thing I got in this application is that it preserves the data integrity after migration.
What is the need to move MSG to Adobe PDF format
Some needs are deliberated below that benefits to know the actual requirement behind MSG to PDF converter:
Portable Document Format is a universal file format. Thus, it is used for legal documents for displaying evidence legally. Users can show your PDF as a government document.
Whereas the MSG file has no kind of security feature, it can be used easily by using any text editor. Whereas, Adobe PDF eases safety feature to have complete data security.
By moving MSG to Adobe PDF, users can limit copying and editing data.
If we transfer your MSG to PDF, data can be utilized easily on any Operating system. Apart, PDF also has media components as well.
How can you say MSG File Converter is a unique solution?
There are some features to perform MSG to PDF migration as stated below:
Complete Security: Your data remains secure through the procedure of migration so that you get all data back in original form after migration as well.
A Lasting Support: The application supports all accessible editions of MS Outlook and Windows OS efficiently to give a smooth as well as appropriate data procedure.
Multiple Conversion: With this MSG Converter tool you can move multiple MSG files to Adobe PDF easily without any issue.
Structure Maintenance: Hierarchical structure and formatting of your MS Outlook MSG is preserved securely while moving MSG to PDF with the highly demanded tool.
Concluding the above write-up, the MSG to PDF converter to transfer Outlook MSG to PDF is an efficient utility. The tool is capable to batch convert MSG files to PDF format. You can try the DEMO version to experience the working of the tool. It lets you convert up to 25 files per folder.