126 Email Backup Tool to Migrate 126 Mailbox Data to Several Formats
In this blog post, we get to know about how to take 126 email backup. Here, we will discuss reliable software that helps to create a backup of 126 mailbox data easily. If you are looking for a solution to create 126 email backup, you are at the right place. The solution is a standalone utility to export 126 emails to other platforms.
Solution to Take 126 Webmail Backup
126 email backup software is reliable software to create 126 email backup quickly and securely. It allows creating a backup of 126 emails in bulk to save your precious time. The tool comes up with several beneficial features by which you can easily export 126 mail to multiple formats. It supports both desktop-based and cloud-based applications to perform the backup process. So, you can easily migrate 126 Emails to Office 365, Gmail, G Suite, Outlook.com, Exchange Server, Thunderbird, etc. It gives the option to export 126 mail to PST, PDF, EML, EMLX, MBOX, MSG, HTML, DOC, and other file formats.
Download the 126 Email Backup Software to quickly backup 126 emails.

Using this software, there is no need to worry about data accuracy. It always keeps all the data completely preserved in its original format without loss. The tool can be installed on any Windows platform. If you don't want to create a backup of all mailbox data, then the tool provides a filter option to take the backup of only required emails.
How to Backup 126 Emails ? – Step by Step Instructions
You just need to follow all the below mentioned steps to easily backup 126 webmail data without any risk of data loss
Firstly, install and run the software to migrate 126 emails on your Windows-based PC.
Choose 126 option, enter email address and password of your 126 account and click on the Login button.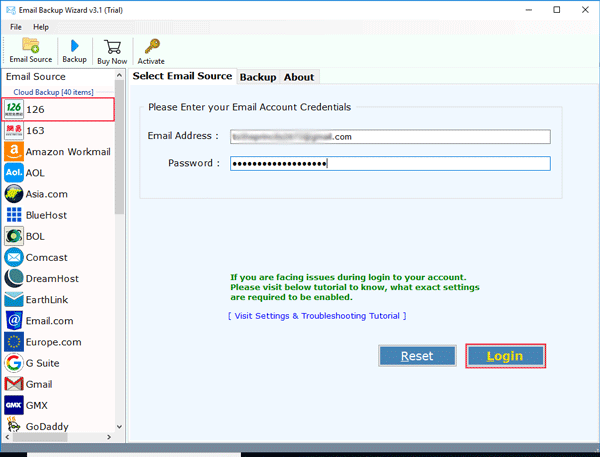 From the list of saving option, choose any required file or email format. Select File Naming Option and Destination Path as per your choice to save and manage the resultant data.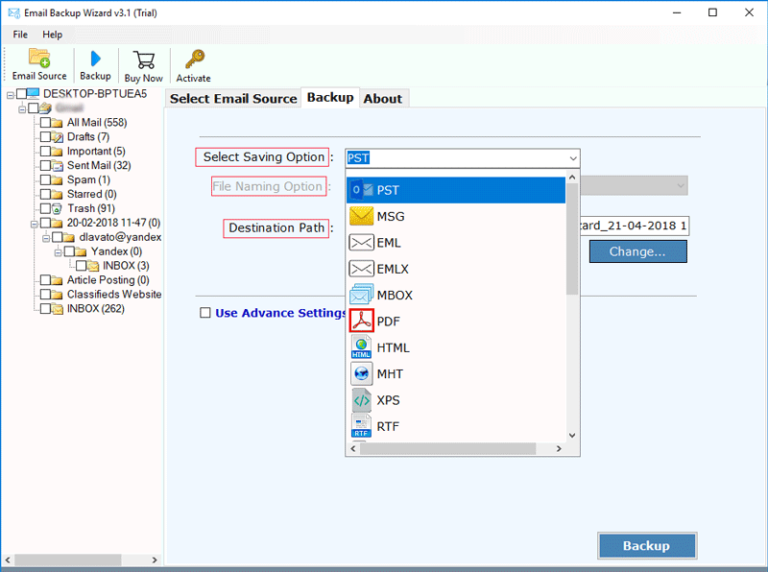 Click Use Advanced Setting and apply the filter on the basis of Date Range, From, To, Subject to create a backup of selective 126 emails. After that, click on the Backup button to start the process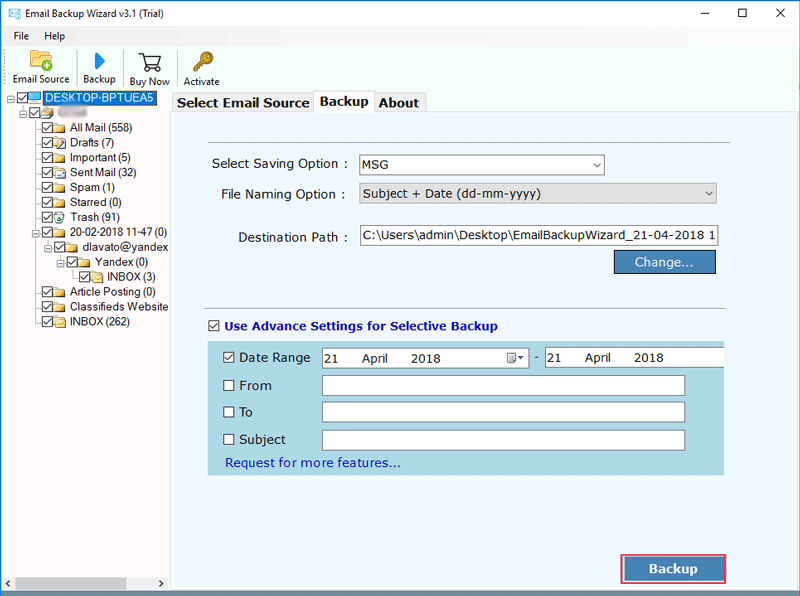 The tool will take a few minutes to complete the process to export 126 emails.
What is 126 Email?
126 is a popular email provider in China. It is owned by MarkMonitor, which is the US brand protection company. 126 email is mostly used to send, receive and read emails. It is a free email services, users can easily access the email messages online from anyplace.
Need to Create 126 Email Backup
In case of accidental deletion of the data, it is easy to restore data easily from the backup. As we all know that, hacking or ransomware attack is increasing so creating a backup of data is the most needed for securing it. If the backup is created locally, it is easy to access it anywhere. By creating a backup into PDF file format, it is easy to print and share the data.
Why Choose 126 Email Backup Tool ?
We recommended this software because it is really a very effective tool which gives complete 126 email backup solution without complexity. It provides an option to create a backup of multiple 126 emails without losing original formatting. It comes with many unique features that make it more powerful. Some of the benefits and features are explained in the below section-
1. Option to Backup 126 Mail into Various Formats: The tool supports many email file formats to backup 126 emails like 126 to Outlook PST, PDF, MSG, EML, MBOX, HTML, DOC, etc.
2. Directly Migrate 126 Emails to Multiple Email Clients: The software provides the option to directly migrate 126 emails into Office 365, Outlook.com, G Suite, Gmail, Yahoo, Windows Live Mail, Thunderbird, Zimbra, Lotus Notes, etc.
3. Supports Bulk Migration: The 126 Webmail backup tool gives permission to export the bulk emails along with all attachments. There is no limit of file numbers and file size to migrate the emails.
4. MS Windows and Outlook Compatible: This application supports all version of Windows i.e. Windows 10, 8.1, 8, 7, XP, etc. and also capable to export Outlook 2019, 2016, 2013, 2010, etc.
5. Maintains Integrity of Email Data: While migrating emails from 126 Webmail, the tool always maintains the integrity of data in its original format without any changes. It successfully secures all the email and attachments formatting.
6. Requires only credentials to backup 126 Mailbox: The tool only needs the credentials of 126 mail account to create a backup. If you want to migrate 126 to Office 365 directly, then you just enter login credentials of both accounts.
Conclusion
So it is clear how to create 126 email backup with the help of 126 Email backup tool. We have given the complete information about this tool and also provides step by step method to easily migrate 126 emails into numerous file and email formats. If you still have any doubt, then you can use the trial version of the tool and check the working process and efficiency.