How to Create BOL Email Backup ? – BOL Webmail Backup Software
Are you looking for a direct way to create BOL email backup? If yes, you are in the right place. Here, in this article, we are going to give a detailed solution for BOL email migration. The BOL Webmail backup software is a professional approach to migrate BOL emails. Read the full write-up and learn how to migrate BOL emails with complete security.
Solution for BOL Email Backup
In order to create BOL email backup, you need to choose an excellent and reliable solution. The BOL Webmail Backup Software is specialized software for BOL file migration. This utility is designed to make the BOL backup very simple. With this software, you can easily copy unlimited BOL emails along with all the attachments. This is the safest application to create BOL Backup without any trouble. The tool enables you to copy BOL data to multiple file formats such as PST, PDF, MSG, MBOX, EML, EMLX, RTF, DOC, HTML, etc. It is also capable to import BOL data to Gmail, G Suite, Office 365, Lotus Notes, GMX, and other email services directly. There are no such formalities to create the backup of the BOL mails client. You just have to follow the simple steps. But firstly, download the utility to make BOL migration simple.

Steps to Backup BOL Email
1. Download and run the BOL email backup tool and select BOL application from the left panel.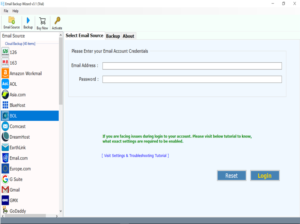 2. Enter the credentials of BOL account and click on the Login button.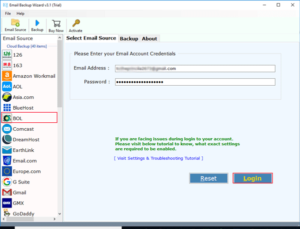 3. The software will offer you multiple file saving options. Choose the required file saving option and destination path.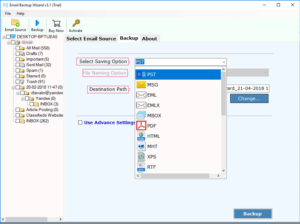 4. After selecting all the options, click on the Backup button to begin the BOL backup process.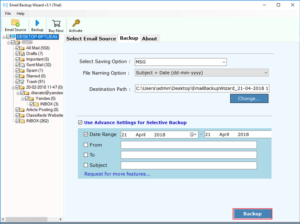 About BOL Webmail
BOL webmail is the most popular free email client service from Brazil. This application provides the huge storage capacity of 12GB for email messages and attachments. It provides many advanced themes such as spell checker. Users can easily access it via smart TVs and iPhone, iPad, etc. BOL also offers the remote access via IMAP and POP3 to ensure that the original content is not erased.
Why Take Migrate BOL Emails ?
There are so many reasons which prove the need to create a BOL backup.
Suppose, BOL data got deleted by accidentally from the server. If you don't have the backup of your data then it is not possible to restore the deleted data.
If you want to that your data should always be kept safe from the virus and malware.
Using the BOL email backup, you can easily access the data offline without internet connectivity.
With the help of its backup, the forensic investigation can be performed without fear of any data loss.
Advantages of BOL Backup Wizard
Capable to import BOL emails to multiple file formats and email services.
Copy BOL emails along with all the respective properties with accuracy.
BOL Backup Software is free from any type of risk i.e. Virus or Malware.
This application is compatible with each and every version of Windows.
Allows to copy and save the resultant output to the required location.
Let's Conclude:
Creating the regular backup of your emails is good. BOL is the most popular free email services that provide huge storage capacity. It is required to take the backup of your database to reduce the possibility of permanent loss of your data. Moreover, we have suggested the best and reliable solution that easily create the complete BOL email backup. If you want to check the working first then it is recommended to use its trial version first.