HostGator Email Backup – Download HostGator Database to Multiple Email Services
This blog is all about how to backup HostGator email. So, if you are looking for a solution that creates the safe and accurate backup of HostGator client then you are at the correct place. Here, we have come up with an excellent and reliable tool to import HostGator database without any trouble. But first of all, let's take the overview of HostGator and why to take its backup.
How to Backup HostGator Email without any Trouble ?
You can easily create the safe backup of HostGator using HostGator Email Backup Wizard. It is a Windows-based application and completely free from any type of risk. The tool provides a very simple interface. It is an advanced utility that supports to download HostGator files to PST, PDF, MBOX, MSG, EML, EMLX, DOC, HTML, and MHT, etc. file formats. It also has the capability to import HostGator database to Office 365, Lotus Notes, Thunderbird, Zimbra, Gmail, GMX, and other popular email services directly. So, download the utility and backup HostGator emails directly.

Steps for HostGator Email Backup
The best thing about this software is that there are only a few steps to perform the migration.
1. Run HostGator backup tool and select HostGator from the left panel of the tool.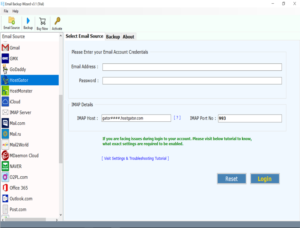 2. Enter the credentials of your HostGator account and click on the Login button.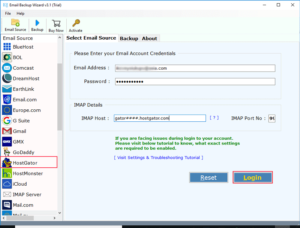 3. Now, select the required file saving option, file naming, and destination path.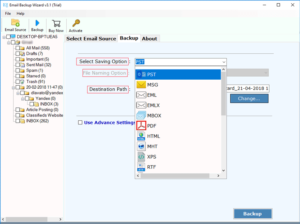 4. At last, click on the Backup button to begin the HostGator email backup process.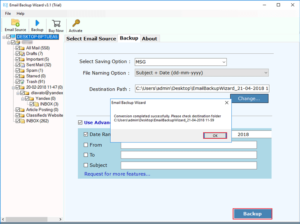 Why Take HostGator Email Backup?
There are many numbers of reasons to create a HostGator email backup. In today's era, crime increasing regularly, you never know what happens with your personal data next. To make your HostGator or other data secure it is suggested to create the data backup even no matter your hosting service is much secured. As your data is on the web, hence there are some prone arises such as hacking, Malware or Ransomware attack. By taking the data, you can easily keep your data without any risk or if you lose your data then you can also retrieve it easily. In case of accidental data deletion, you can restore your data in a few moments.
For another instance, if you take the backup of your HostGator data into any portable and secure format like PDF then you can easily print and share your data too.
Key Features of HostGator Email Backup Software
Import the HostGator database to multiple file types easily.
No file size limitation imposed on Email Backup Wizard.
Download HostGator emails along with all properties.
This software is compatible with all the Windows platform.
External application is not required to import HostGator data.
Comes up with very simple graphical user interface for ease.
Browse the required destination path to save the resultant.
Provides multiple file naming convention options for ease.
Final Words
If you want to backup HostGator emails without any trouble then you can take the help of HostGator Email Backup Software. The tool will help you a lot in order to download HostGator files to multiple file types. It is a standalone utility that successfully creates the safe and accurate backup of HostGator. This utility also provides the free demo version facility by which you can easily understand the software working and functionality. This free Software also allows importing 25 data items from each folder.