Know How to Take Email Backup from Roundcube – Step by Step Procedure
Are you looking for a direct solution to backup Roundcube email messages  ? If yes, in this blog you will get the most suitable solution to export emails from Roundcube. We have explained a step by step procedure to migrate Roundcube to a new server. With Roundcube Migration Tool, you can quickly backup Roundcube Webmail to other platforms.  Also, through this blog, we have tried t solve the following user queries too:
How to take a backup of Roundcube Webmail ?
How to backup Roundcube all emails along with attachments ?
Can I migrate Roundcube to a new server without losing any data ?
To get the best solution for all the above queries related to Roundcube email migration, download the all in one multi-utility Roundcube converter on your Windows PC.
By default cPanel provides three Webmail application. These are Horde, Roundcube, and SquirrelMail. Now, to continue the process, select Roundcube option and get all your messages.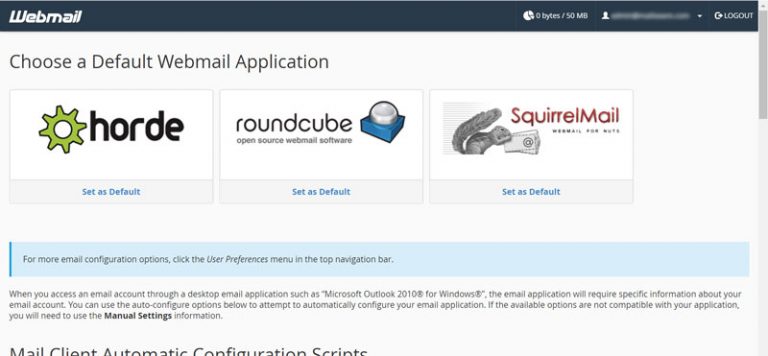 Solution to Backup Roundcube Webmail
Getting a correct solution to perform the Roundcube mail migration process is somehow challenging. As one wrong step can lead to data loss, therefore we have given a trusted and error-free solution to export emails from Roundcube. Also, the Email Backup Solution is a suitable solution for safe Roundcube email migration. The software has a free trial version to experience it before purchasing. Also, in just a few quick steps, you can export Roundcube emails to Gmail and other desired platforms.
Steps to Migrate Roundcube to a New Server
Download the tool on your machine.

Step 1: Firstly, from the list of email source, select the Roundcube Webmail option to perform Roundcube email migration.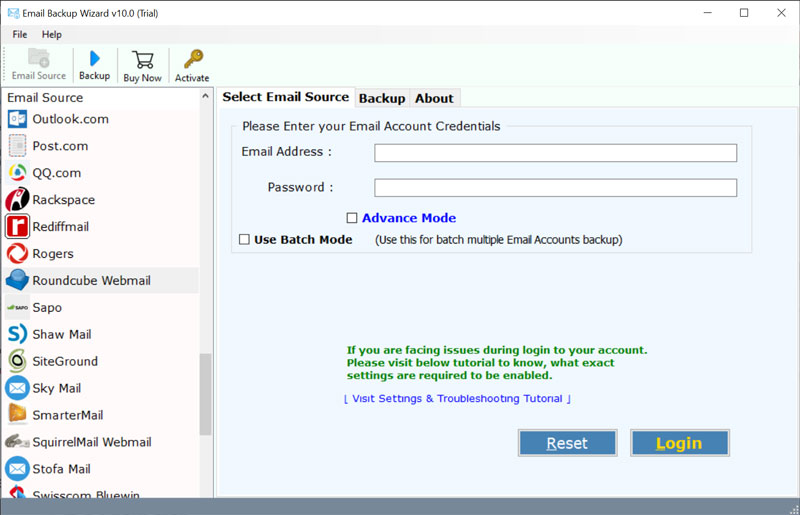 Step 2: Enter your Roundcube credentials to execute data backup process. Click on Login button.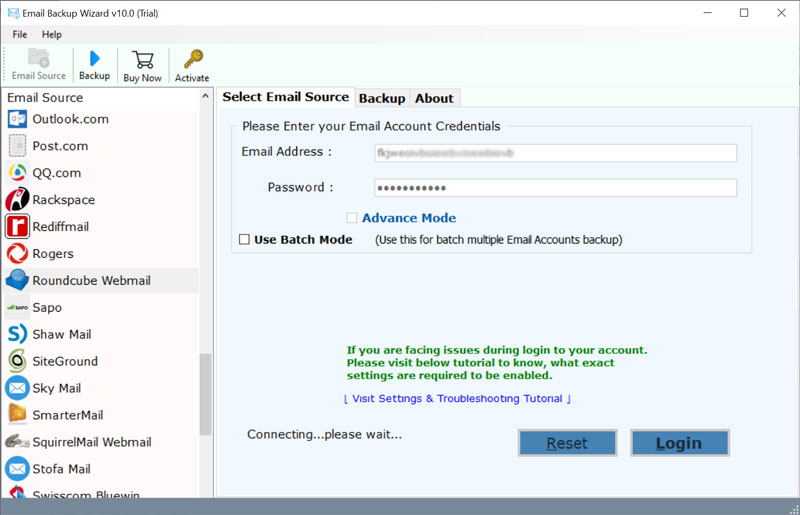 Step 3: The utility will list all the folders of your Roundcube webmail on the left side. Now, check the email folders that you want to backup.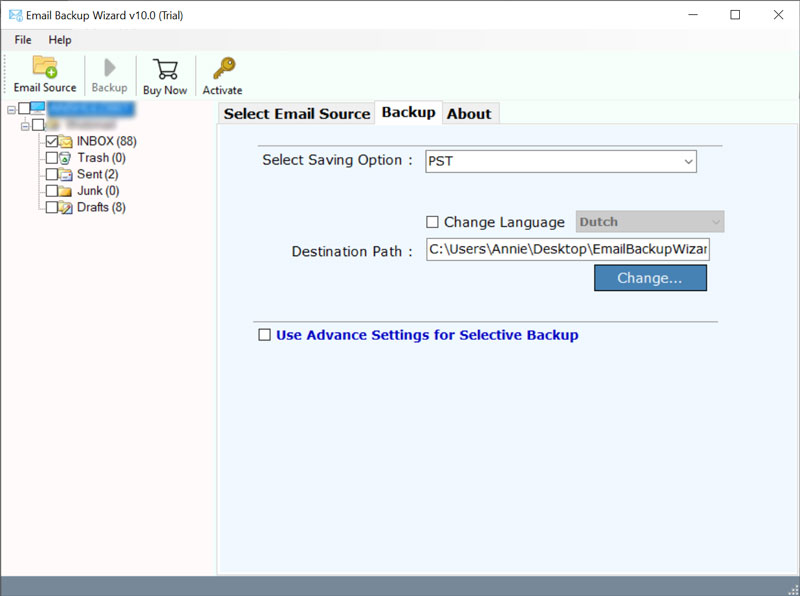 Step 4: Now, select the desired file format to save your migrated emails. Here, we choose the PST format to export emails from Roundcube.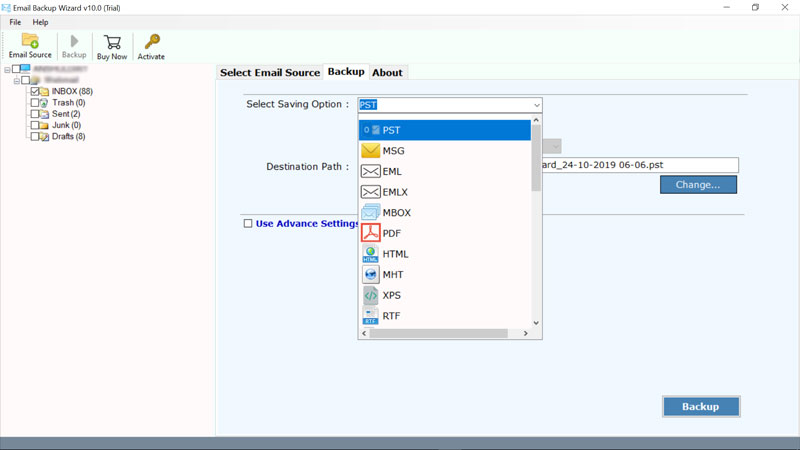 Step 5: Also, you can save the resultant files in the desired language. Choose the required option accordingly.
Step 6: Now, to backup Roundcube database, select the desired location to save your resultant data files and click on Backup button.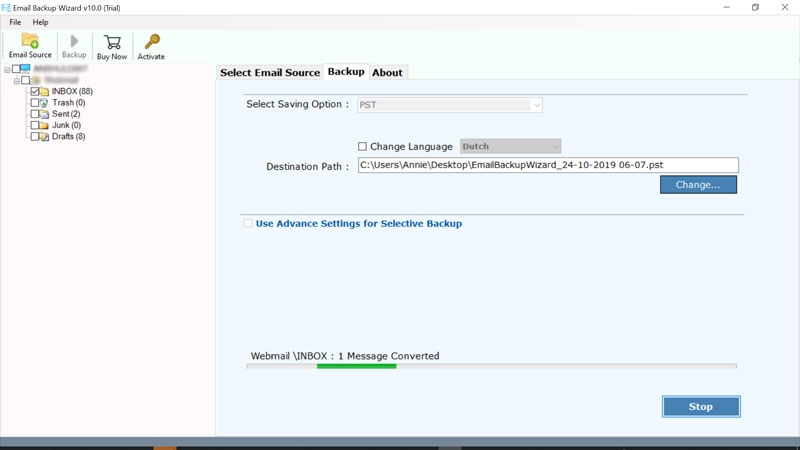 After the process for Roundcube Webmail backup all emails, you will get a message of completion. In the end, you can check all the converted files at the chosen location.
Watch this video to learn the easy steps:
Some Advantages of Roundcube Email Migration Tool
1. Selecting Roundcube Backup software brings in various facilities, which covers maintaining data integrity after backup.
2. The tool to migrate Rouncube to new server retains the rich-text formatting, all metadata properties like To, Cc, Bcc, Subject, Date, etc.
3. Also, software to backup Roundcube Webmail maintains the data by retaining send/receive information, headers, etc. in its exact form.
4. Many experts recommended this utility to backup emails from Roundcube mailbox as it performs rapid and smooth Roundcube email migration.
5. Also, the Roundcube Mial Migration utility allows you to export emails from Roundcube Webmail along with all the respective attachments.
Summary
In the above blog, we have given an appropriate solution to backup Roundcube Webmail with complete security. Getting a precise solution makes ease to backup all emails from Roundcube mailbox. Along with this, you get various facilities to backup data in the desired format. Also, there is a DEMO version available for the tool to migrate Roundcube to new server.