Office 365 Backup – Download Office 365 Mailbox with Complete Guidance
Do you want to create the backup of your Office 365 account? If yes, then continue reading this Blog as we have come up with one of the best high-tech solutions to convert Office 365 mailbox. Here, we will discuss the different ways to understand how to perform Office 365 migration easily.
Methods to Backup Office 365 Mailboxes
Method 1: Using the Automated Migration Tool
The manual procedure is good but not preferred due to its very typical steps. Therefore, we have come up with the ultimate approach to migrate Office 365 account. This approach involves usage of the third-party tool that facilities services to create Office 365 Backup and Archive them.
Office 365 Backup Solution is the professional and self-explanatory tool to migrate emails from Office 365 account. The tool not only import Office 365 data to PST but also provides multiple file saving options such as PDF, MSG, EML, EMLX, HTML, MBOX, MHT, DOC, etc. In addition, the tool only requires the credentials of your Office 365 account. It comes up with many advanced features to perform Office 365 to Outlook migration and other file formats as well. Office 365 backup tool is really helpful to create a backup of Office 365 emails as well as calendar and contacts also. So, download the utility and convert Office 365 data without any problem.

Steps to Create Office 365 Backup
Install the software and select Office 365 as the email source from the left panel of the screen.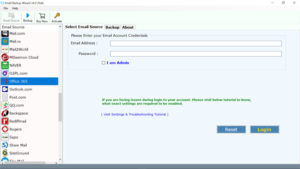 Enter your Office 365 email credentials and click on the Login button.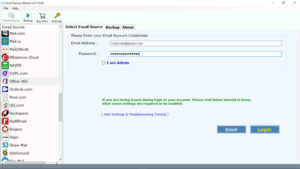 Select file saving option, required destination and click on the Backup button.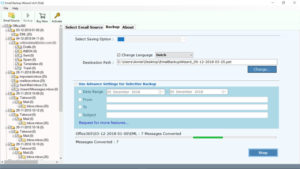 The software begins creating Office 365 email backup.
Method 2: Manual Method
Note: To import Office 365 to Outlook or other cloud-based services, it is necessary to install both applications properly. This is the two-step procedure.
1. Firstly, configure MS Office 365 account with other email application.
2. Now, export all your emails from the Office 365 account.
Limitations:
Configuration between the applications, exporting mailboxes, etc., is very lengthy as well as time-consuming process. Users find such workarounds tedious and irrelevant.
The manual method requires expertise. When the user is performing this task, they require a deep knowledge of Office 365. However, if something goes wrong, then it will result in data loss.
Overview of Office 365
Office 365 is a Web-Based service by Microsoft. It allows its users to access their email accounts in the presence of the internet. Due to the lack of control over cloud data in a cloud environment, there is always dissatisfaction among users. So that users want to switch the data for their convenience. Sometimes, users want to import Office 365 Mailbox to Outlook account. It allows users to migrate from Web-based email to desktop-based email client applications.
Benefits of Office 365 Migration Software
You can easily import unlimited mailboxes from Office 365 account.
Change the language of the software during the migration process.
Provides multiple file saving options select as per your requirements.
Create multiple Office 365 mailboxes backups at once with accuracy.
You can install this software on any Windows Including both (32 and 64 bit).
Office 365 Migration Tool gives multiple file-saving options for the ease of users.
You can select the required destination path to save the data.
The application is completely free from any type of risk and virus.
Also Read: How to Save Emails from Office 365 to External Hard Drive?
Final Words:
In the above blog, we described the manual and third-party solution as well in order to import Office 365 data. But we recommended you to go with a third-party tool to safely and accurately create Office 365 Mail backup. The software provides a very simple user interface and there is no risk involved with this application. Also, it has a TRIAL edition using which you can experience the tool before investing.