MDaemon Email Backup – Backup of MDaemon Server Locally
In this blog, we are going to cover the following queries like what is MDaemon, why take MDaemon email backup, etc. So, if you are an MDaemon user and want to create MDaemon Webmail backup, then you are at the correct place. Read the further blog and get all the answers.
How to Create MDaemon Email Backup ?
We would like to suggest you choose any reliable solution to import or backup MDaemon data as there is no manual way available. There is a tool namely Email Backup Digital Tool that is developed to meets all the expectations of users. It is a Windows-based and standalone utility that comes up with the very simple user interface. Even non-technical users can easily use this application.
With the help of MDaemon Backup Software, you can easily import MDaemon files to PST, PDF, MBOX, MSG, EML, EMLX, HTML, MHT, and DOC, etc. file formats. It also allows to download MDaemon to Gmail, Yahoo, Thunderbird, Office 365, and Lotus Notes, etc. directly without any trouble. The tool allows you to import MDaemon emails along with all the attachments. You can easily perform the migration in just a few steps with MDaemon migrator. Download the tool and take MDaemon backup mailbox.

Steps to Import MDaemon Emails with Attachments
1. Download and run MDaemon backup mailbox tool and select MDaemon service from the left panel.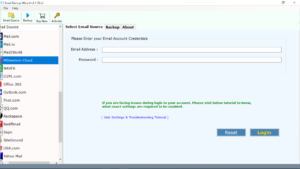 2. Enter the credentials of the MDaemon account and click on the Login button.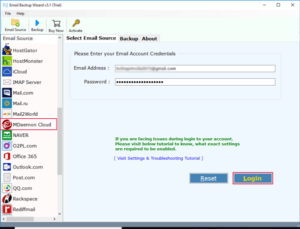 3. Now, select the required file saving option, file naming options, and destination path for MDaemon email backup.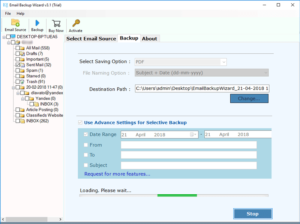 4. At last, click on the Backup button to begin the process of MDaemon webmail backup.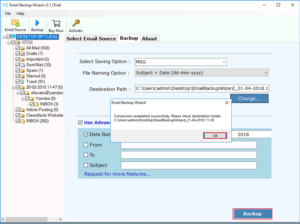 Overview of MDaemon 
MDaemon is a web-based email client services, which is completely a Windows-based. This application is developed by Ali-N Technologies. MDaemon email server service can be used in multiple languages. It supports multiple protocols such as SMTP, POP, and LDAP. MDaemon cloud allows its users to send and receive messages easily and efficiently. It is also used for the other feature such as sharing, spam-filtering, calendars, and notes, etc.
Why Create Backup of MDaemon Email ?
1. In the case of accidental data deletion, you can restore MDaemon Email server data by using the backup.
2. You can also take the help of backup if you are thinking to switch to another email service.
3. With the help of MDaemon backup, you can easily access your data with the other applications.
4. When you take the backup, the data stored in the two places. First one is the server and the other is local. So, if you lost your data from one place then you can easily access or restore it from the other place.
5. With this help of MDaemon Email Backup, you can easily access your data offline anywhere or anytime without any conditions.
These all are the most important and reason to create MDaemon Email Server Backup locally. Now, the question is how to create MDaemon Email Backup? And if you are worried about to take backup then don't worry! We have also come up with a safe and reliable solution.
Key Features of MDaemon Migrator
Import MDaemon files to multiple file formats and email services directly.
Download MDaemon messages along with all the respective attachments.
You can easily create unlimited and complete MDaemon email backup.
This MDaemon webmail backup application is completely safe and free from any type of risk.
You can download and install this application on any Windows platform.
The MDaemon migrator comes up with the filter option for the ease such as date filter.
Final Words
There are many MDaemon backup mailbox solutions are available but finding the best one is tough. In this blog, we have recommended the best and users first choice tool to create MDaemon email server backup locally. MDaemon Email Backup Wizard is a smart utility and it's all the functions work well. It also gives the demo version facility through which you can check the software working and functionality.